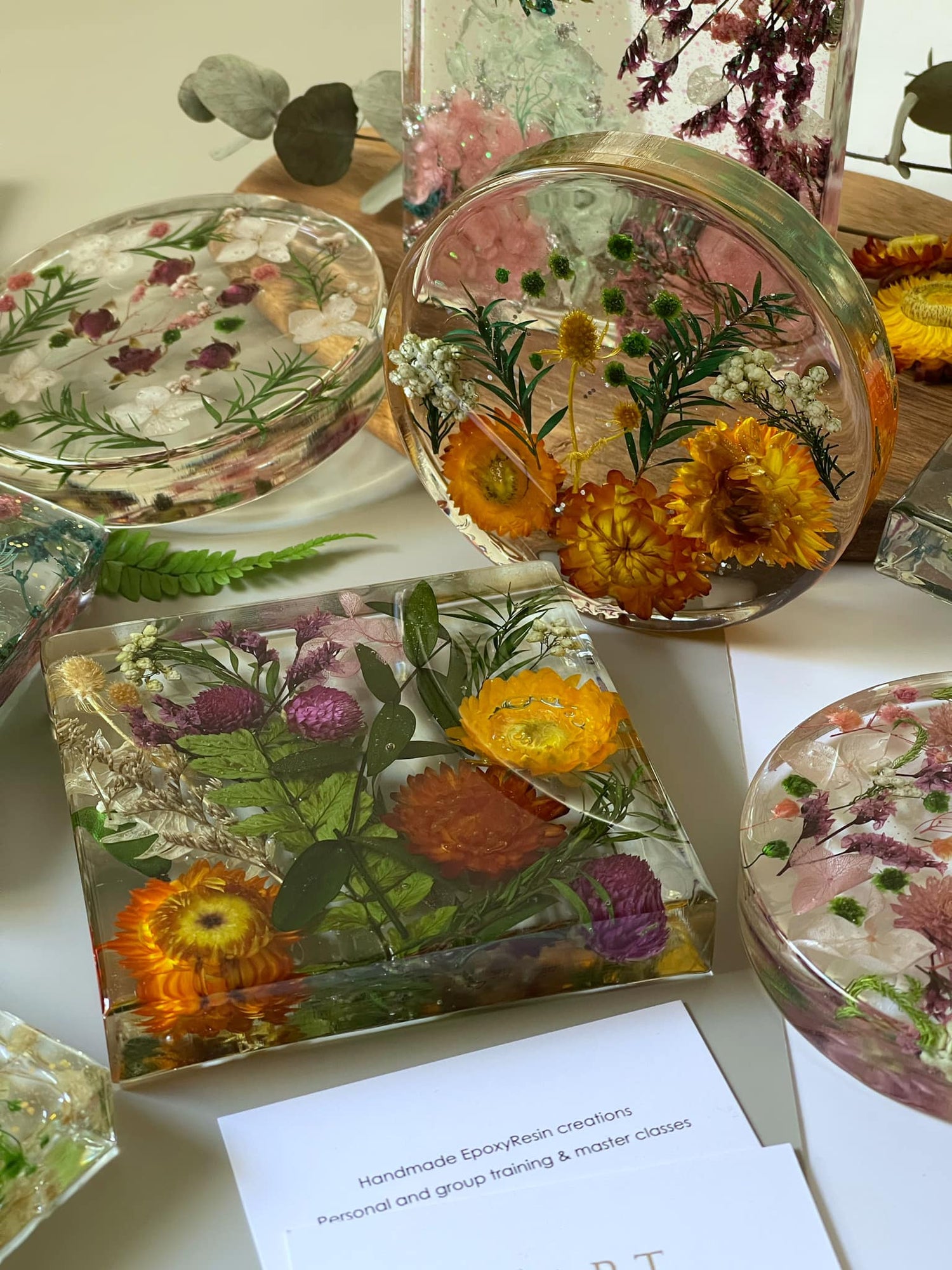 Master classes on Epoxy Resin
We invite everyone to attend a master class on epoxy resin in Rishon Lezion.
You will have a lot of fun, get acquainted with the types of epoxy resin, master several pouring techniques and create your first works.
Sign up for a master class
We invite you to master classes on creating products from epoxy resin in Rishon Le-Zion!
In small cozy groups (8 people each), we will learn how to work with resin and create our first works from epoxy resin.
At the master class you:
learn about the types of epoxy resin and how to choose the right resin for a specific task;
become familiar with safety precautions when working with resin;
learn how to properly mix and color resin;
master one or more techniques for pouring epoxy resin;
create your first epoxy resin product;
relax and enjoy the process.
At the end of the master class under the guidance of a master, you will master the technique of working with epoxy resin and create a product for your home.

Important! Master classes are held only for adults over 18 years of age. Pregnant women and children under 18 years of age are contraindicated from working with resin, as well as persons with medical contraindications.

Important! After a few days, the resin will gain strength and harden. The finished work can be picked up (or ordered sent) within approximately one to two weeks after finishing (the master performs it independently).

Place, time, cost and language of master classes:
Master classes are held on Fridays from 10:00 to 13:00 (duration about 3 hours)
Rishon Le-Zion, Jabotinsky Street area
The cost of the master class is 400 shekels.
Master classes are conducted in Russian, but also, if a group of 8 or more people gathers in Hebrew, it is possible to conduct a master class with a Hebrew translator.
The master class is conducted in small groups of 8 people.

Please note that the number of participants is limited; registration for the master class requires full prepayment via BIT or PayBox.

Let's create together!

There are several ways to sign up for a master class or find out the topic of a master class:
1. Write us a letter by following the link: mart.studio.israel@gmail.com
2. Write to the master on Instagram or Facebook
Works of master class participants